Rev. Bill Roberts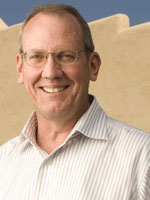 Bill Roberts is a founding board member and ordained minister at The Logos Center in Scottsdale, Arizona. He has pursued a course of self-directed study in new thought since 1985. Bill retired from Intel Corporation in 2002 and has since started his own aerial photography and video production company. He is an Arizona native and enjoys many activities the beautiful Southwest weather affords including fishing, photography and gardening.
Bill is a freelance video producer of training and promotional videos. In addition, he has produced and directed over 200 cable television programs and is an editor of non-fiction manuscripts. Bill has 23 years IT management experience in a hi-tech manufacturing environment specializing in electronic messaging, business processes and application programming. He has privately developed and installed computer programs for medical, university and scientific applications. His most exciting project was as the systems software programmer on a team that installed the first mainframe computer system in Beijing, China.
Bill holds an Organizational Management Certification from the ASU Nonprofit Management Institute and certification from the Monroe Institute of Applied Sciences as a Excursion Workshop Facilitator (for stress reduction and enhanced conscious awareness). Bill enjoys flying and is an instrument-rated private pilot. He is also a Master Gardener for Maricopa County, Arizona.