Bob and Mari Messinger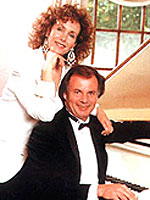 Bob and Mari Messinger are an exquisite team, combining years of music & television production along with the music ministry. Bringing to the foreground expertise in staging, lighting, and sound, coupled with their charisma, this unique team transcends the boundaries of secular and non-secular music.
Mari Messinger grew up in Tucson, Arizona and started singing at eleven years of age. She sang in church, high school, and college choirs. Music scholarships secured her university studies under the watchful eye of Dr. John Bloom and Igor Gorin, one of the world's great baritones. She graduated from the U of A with a Bachelor of Arts degree in education, and a very strong minor in applied music and drama. After graduation from the U of A, she teamed with Bob and they developed their showmanship craft together while touring the United States.
Bob started his music career at the early age of four in Los Angeles, California with one of the world's prominent music figures, Tito Guidotti, and has remained in the musical arena in front of and behind the scenes ever since. He also held the position of head pianist for the Texas Tech University 17 piece jazz band for 3 years, and is currently the head pianist for the Scottsdale Community College 17 piece jazz band. Bob's credentials include Disney, several USO tours, television, commercials, and studio back-up vocals in Nashville, Tenn.
Bob and Mari now own and operate Applause Productions & Entertainment Inc., in Scottsdale, Arizona, which produces and books theme shows and total entertainment for the corporate and convention market. Clients include Motorola, Intel, Qwest, I.B.M., Volkswagen, and Westinghouse, just to mention a few.
A strong belief in a higher power brought Bob and Mari into their music ministry 20 years ago, where they served as music directors at Unity of Lubbock, Texas. They have guested at Unity of the Desert in Palm Springs, Unity of Mesa, Astara, and the Crystal Cathedral. They have served for the past 12 years as music directors of Logos. Writing inspirational music to enhance sermon topics is their love. Coupled with their years in the production industry and music ministry, they bring a heightened intuitive sense of musical spirituality to the congregation. The message from the Messingers is that 'music is a bridge to the soul'.
For more information on Bob and Mari's services please see Applause Productions and Entertainment, Inc.