Dr. Herb Puryear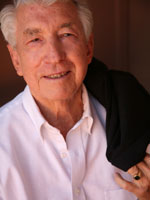 Herb Puryear has been a student of the Edgar Cayce readings since he read There Is a River in 1951. In 1953 he lived in the Cayce home for three weeks where he became acquainted a number of people who knew and received readings from Mr. Cayce. In 1956, Herb and several others started 'A Search for God' study group in Palo Alto. In 1959 he spent two months at the A.R.E. headquarters in Virginia Beach studying all of the Cayce readings on dream interpretation. At that time he began conducting workshops on dream interpretation.
His academic background includes two years at Baylor University with a number of Bible and religion courses both at Baylor and at Stanford. In 1957 after graduating from Stanford, he attended the University of North Carolina. His master's thesis and his doctoral dissertation were on dreams and dreaming. He also spent two years in laboratory research on the psychophysiology of sleep and dreaming. He was a close associate of Dr. J.B. Rhine, head of the great parapsychological research laboratories at Duke University. In 1962 Herb joined the psychology faculty at Trinity University in San Antonio. He received a NIMH fellowship conducted at the School of Aerospace Medicine in San Antonio. There he received training from Milton Erikson and he is a certified hypnotherapist in the Eriksonian techniques. While at Trinity he continued to lecture for A.R.E. and he developed a popular course on psychology and religion. There Is a River was featured as one of the texts for this course. He also had a private practice in psychotherapy featuring dream interpretation, and he was a clinical consultant to the psychology department at the San Antonio State Hospital.
In 1969, he joined the A.R.E. in Virginia Beach. There he worked both as Director of Education and Director of Research over his fourteen years on the staff. During this time he authored six books and several scientific publications. He traveled to Russia, Egypt, Israel, and Hawaii and was on a tour around the world. Regularly every year he gave lectures and workshops in more than twenty cities, and he participated in the year-round educational programs at Virginia Beach. He was featured in two PBS television series: "From Mystery to Meaning: Meditation and Dreams", and "Who Is Man?" that aired nation-wide. His Edgar Cayce Primer, 1982, was featured on the Merv Griffin and the Maury Povich shows and on the Good Morning Canada show. Other books by Herb are: Meditation and the Mind of Man, Day by Day, Face to Face, Reflections on the Path, and Sex and the Spiritual Path. The latter two and the Primer were published by Bantam Books.
In 1982 Herb moved to Phoenix where he and Anne were married and joined together in their work. The Logos Center was incorporated in Arizona on May 26, 1983. Along with developing the Center, Herb has conducted Anne's psychic readings for more than twenty years. Their work of readings and workshops took them to many cities and conferences including more than twelve Logos sponsored spiritual pilgrimages abroad. Altogether, his travels have included visiting thirty-two countries. His work here also includes the publication of many articles and two books, Why Jesus Taught Reincarnation, and The Cycles of Life.
The Center began in the Puryear's home and continued at another facility for twelve years. In March, 2002 Anne and Herb and the Logos community opened their new facility, The Logos Center. Here at the Center Anne and Herb alternate presentations at the Sunday celebration. Herb also leads a Sunday morning discussion group and a Tuesday evening 'A Search for God' study group.
Herb was born in Wellington, Texas. His birthday, November 24th, makes him a Sagittarius. Herb's hobbies and favorite activities, apart from his work, include: swimming, he is certified as a Red Cross Water Safety and Life Saving Instructor, and is a certified SCUBA diver; flying, he was a Marine jet fighter pilot, weight training, yoga, backpacking; and today, his favorite outdoor activity is canoe camping.